The Best Dog Food: How to Tell What's Right for Your Dog
Many people mistakenly believe that dogs can consume any food. Despite the fact that dogs can eat anything, this is not advised. A good and sufficient diet should be provided for both the dog and its owner. The advice provided below will help you choose the best pet food.

Consider life stages and additional variables
Choose food that is first tailored to the stage of life or age range of your dog. Given that your dog's nutritional needs will change slightly as they age, experts advise doing this. Then, consider which elements are most important to you. For instance, narrow your search to businesses that provide organic, artificial-free, and natural food options if those things are important to you. Don't stop there; also take into account recyclable and sustainable packaging. Last, think about convenience and price. Is the pet food readily available in grocery stores or is it limited to a specialty store? 
Check ingredients list and labels
A declaration from AAFCO (The Association of American Feed Control Officials) is one of the elements to look for on any pet food label (AAFCO). The claim implies that the food offers a varied and complete diet. Additionally, it will state if a food item has attained the required nutritional level as determined by lab testing or a real feeding trial. 
The exact ingredient list is the next thing you should examine. This can be challenging because the label lists ingredients according to their pre-cooked weight.
Although seeing fresh meat as the main ingredient frequently appeals to pet parents, this does not necessarily mean it's giving the best nutritional value for the money. 
Raw pet food
Pet owners prefer raw diets because they believe they are more similar to what wolves, the dogs' ancestors, would have eaten. However, the majority of commercially available raw dog foods are prepared with animal owners in mind and are wrapped in a user-friendly manner. This is in contrast to some supporters of the initial Biologically Appropriate Raw Food diet who do, in essence, feed their pets bloody meat slabs.
You'll start to see more regular poop and much less gas if you decide to nourish your dog on a raw diet because it digests more quickly. The limited ingredient list and absence of preservatives will benefit dogs with allergies, while fussy eaters can't complain about the taste.
Nonetheless, some dogs may be allergic to raw food. A discussion with your vet will help you choose the right product for your pet. 
Specific diets for each breed and size
You've probably noticed dog food labels for breeds ranging from German Shepherds to teacup Yorkies and questioned whether they were really necessary. These selections focus more on a breed's genetic and physiological requirements than on their particular taste preferences. Breed-specific diets are created to deal with known health problems or breed quirks.
Although size-specific diets are less individualized, they do have some benefits. Large-breed diets frequently contain ingredients that support joints because large dogs require a lower amount of calorie intake per pound than small dogs do. Large dogs are also more likely to develop arthritis as they age. 
Wet Food or Kibble
Both wet and dry kibble foods provide complete and balanced nutrition for dogs, provided the AAFCO statement is present and is in accordance with the product. In general, kibble is less expensive than canned food, is easier to carry on a trip, and works well in interactive puzzles and toys. If you reside in a hot climate where staying more hydrated is beneficial, the additional water content in wet food may be advantageous. 
Final Word
Now you see! If you follow these simple guidelines, you will be able to choose the best food for your dog. However, you must keep in mind that your pet may be allergic to some food. Therefore, discuss with your vet to help you choose the best food for your dog. At mypetnaturally, we offer high-quality pet food at competitive prices. Visit us today or contact our experts to learn more about what we have to offer. 
We are also committed to ensuring that you get the right information about pet food. Please follow us on our social media handles on Facebook and Instagram!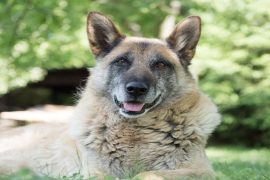 As our furry companions age, their needs evolve. Consequently, they require an increased level of consideration,
Read more