Tips on How to Bathe a Dog Like a Pro
After taking your dog on a big walk, maybe through a forest or near a river, you might notice it's time for a bath. Your dog is covered in mud, smells like a trashcan and has a dull-looking coat. Like most dog owners, you know your dog needs a bath, but you might not know how to bathe a dog.
Don't worry! We have several tips on how to bathe a dog like a pro do you don't have to fret about it again. We also go over the importance of bathing your dog regularly.
Why is Bathing Your Dog Important?
Giving your dog regular baths is good for their hygiene. It helps their skin and coat be healthy and clean by getting rid of dirt, mud and parasites. As to how many baths you should give your dog, that depends on the breed, size, activity levels and fur. For example, long-hair dogs need baths more than short-hair dogs. Outdoor dogs are also going to require baths more often than indoor dogs, especially if they are known to roll around in the mud. If your dog has any skin conditions, allergies or other medical conditions, they might need more baths.
The general rule of thumb is about once a month, but again, this depends on several factors. No matter what, you must brush your dog's coat in between baths. Brushing gives your dog a healthy shiny coat, and it helps get rid of excess fur, which helps the dog shed less. It also removes any visible dirt. 
Keep in mind that baths can be a way for you to bond with your dog, especially if you shower them with love and treats throughout the process. Bath-time is also a good chance for you to inspect your dog; look for any suspicious lumps or cuts, fleas or ticks, dirty eyes or swollen eyes and any other health issues.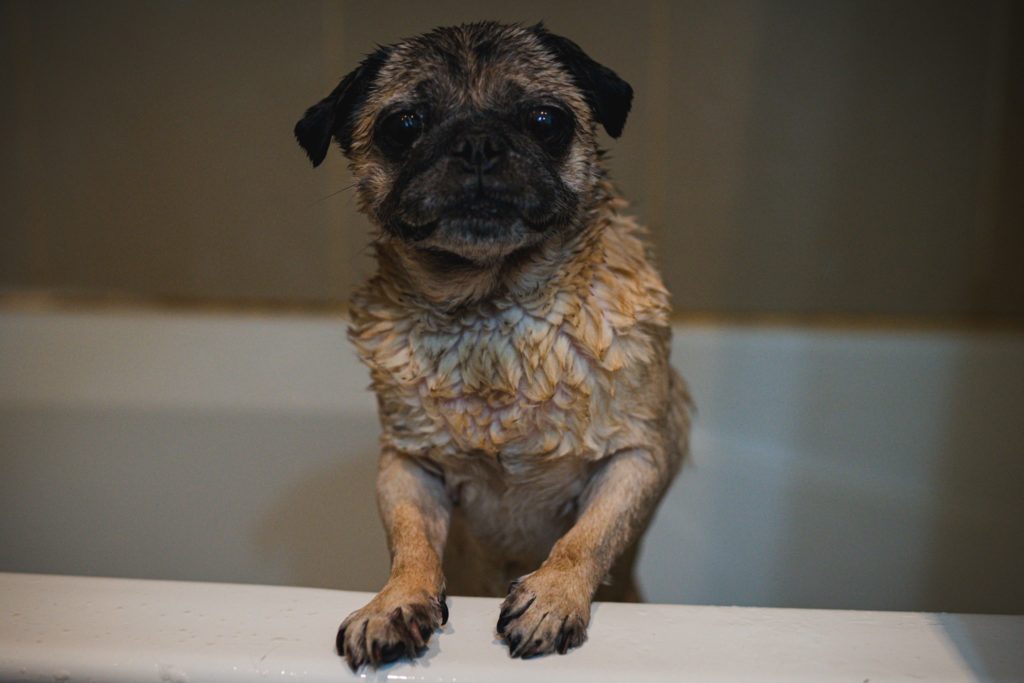 Pre-Bathing Checklist
Before bathing your dog, there are some steps you need to cover first.
1. Do not start washing your dog until you have brushed the coat thoroughly. Remove any tangles so it doesn't get matted in the water. Once the fur is matted, you need to see a professional to get out the mats. Brushing, again, also gets rid of any dirt and excessive fur that might prevent the shampoo from penetrating below the surface.
2. Gather all your materials so you aren't scrambling to find them while your dog is in the water. You need multiple towels (one to put on the floor for your dog to stand one and one or two to dry off your dog), dog shampoo, combs and brushes and a bucket to help with rinsing. If you have a showerhead or detachable nozzle, don't worry about the bucket. Some people like to put another towel or a nonskid rubber mat on the bottom of the tub to prevent the dog from slipping or skidding.
Please do not use human shampoo for your dog. Humans and dogs have different pH levels, so using human shampoo can expose your dog to viruses, parasites and bacteria. If your dog has skin issues, you might need to use a specific shampoo.
3. Dogs have sensitive ears, so you need to protect them from water. Put some cotton balls at the beginning of the dog's ear canals, but don't shove in the cotton balls.
4. Make sure you wear comfortable clothes that you don't mind getting wet. Your dog is going to shake and spill water, so don't wear your fanciest outfit.
5. Find the perfect place to bathe your dog. If you have a big dog, the yard is probably your best bet. Little dogs can go in the sink or tub. However, always be mindful of the outdoor temperature; never bathe a dog outside in the cold. If it's too cold for you, it's too cold for your dog, so bring them inside.
6. If you are bathing your dog in a tub, don't bring your dog into the tub until it is filled with lukewarm water; the water should go up to the dog's knees. Most dogs get stressed or anxious being locked in the bathroom and listening to the running water. Once the tub is filled, you can put the dog in the tub, but be sure to give lots of love and maybe some treats. Be sure to shut the bathroom door so they can't escape, or wash the dog within an enclosed fence if you wash them outside.
Bonus tip: If your dog is really anxious about taking baths, get someone to help you. That person's job should be to only love on the dog and keep them calm and safe.
How to Bathe a Dog
As mentioned above, make sure you use lukewarm water to bathe your dog. Never use hot or cold water. Also, make sure that the water pressure is low so it doesn't startle or harm your dog.
Once your dog is in the tub or yard, fully saturate the coat with water. Make sure the water goes beneath the surface of the coat.
Shampoo the dog starting at the neck and working down the body; wash the armpits, stomach and underbelly before reaching the legs, toes and haunches.
Avoid putting shampoo in the dog's face. If your dog's face is dirty, use a damp washcloth instead. Shampoo in the eyes or ears can be painful.
Once you get the shampoo on, you want to work it into a lather and rub it in. Let the shampoo sit for several minutes before rinsing.
When it comes to rinsing, you must rinse off all shampoo in every place that you washed. Start at the top of the body and work your way down; if you wash the legs and then the top of the body, all you are doing is running dirty water, mud and fur back down the legs that you just cleaned. Make sure you rinse below the coat's surface so nothing is left over.
After-Bath Steps
Now that you have washed your dog, you still have a little more to go before you are done.
After you are done rinsing, dry your dog using a towel. You want to dry your dog thoroughly to prevent any damp spots from remaining. These spots can cause itching, hot spots and other skin irritations.
If you choose to use a blow dryer, keep it on cool and low. Blow-dry in small sections, and move the nozzle back and forth so it isn't focused on one spot.
Once the dog's coat is dry, give it another brushing to prevent any mats or tangles from forming.
Lastly, just to enforce that you love your dog and that bathtime is not the end of the world, give your dog another treat and some extra love. This helps your dog attach positive memories with bathing.
My Pet Naturally Clean
If this is all too much or you are worried about stressing your dog out, don't worry. My Pet Naturally has an in-house grooming salon called My Pet Naturally Clean.
Here, our experienced groomers are more than capable to take care of your dog. My Pet Naturally Clean is a bathhouse for your dog so they leave pampered, relax and clean.
At My Pet Naturally Clean, our groomers can do a shampoo bath, blow-dry and brush out, nail clipping, ear cleaning and anal glans expression. We can also do a sanitary clip and paw and pad trim.
Schedule your grooming appointment with My Pet Naturally Clean today! Call 310-477-3030, ext. #2.
Those adorable furry creatures that we take into our hearts wiggle their way into our homes (which provide
Read more