Dog Training Tips for New Pet Owners
Being a dog owner is one of life's greatest gifts. One of the trickiest things you'll have to do is train your pup on how to behave. Dog training can be challenging for new pet owners, but we're here to offer you a little sage advice.
Don't Yell
Sometimes your pup does something really destructive and you just want to scream! Do it in private, but don't yell at your dog. When you raise your voice to punish your pet, you'll make them less likely to listen to your commands in the future. The sound of your voice might even energize them to continue their warpath. Using an even, firm voice is the best way to talk to your pet when they've done something wrong.
Positive Reinforcement is Key
In the early days of training your dog, you will want to reward good behaviors with treats! Do it so frequently that your dog will come to associate good behavior with good things for them. Make sure you ply them with positive attention when they've done something, right, too! That way, they'll be excited to repeat the good behavior over and over again!
Walk Your Pup Frequently
Adult dogs should be walked twice a day- once in the morning and once at night. Puppies should be walked whenever they need to potty, and you'll be able to tell when they do most of the time. They may start to sniff the floor or start to walk funny. Sometimes, you won't know until after the deed has already been done. Taking your puppy out for walks is an essential potty training tactic. If you're diligent about keeping an eye on your puppy and ensuring that they associate the need to use the bathroom with being outside, you're sure to find less mess in your house.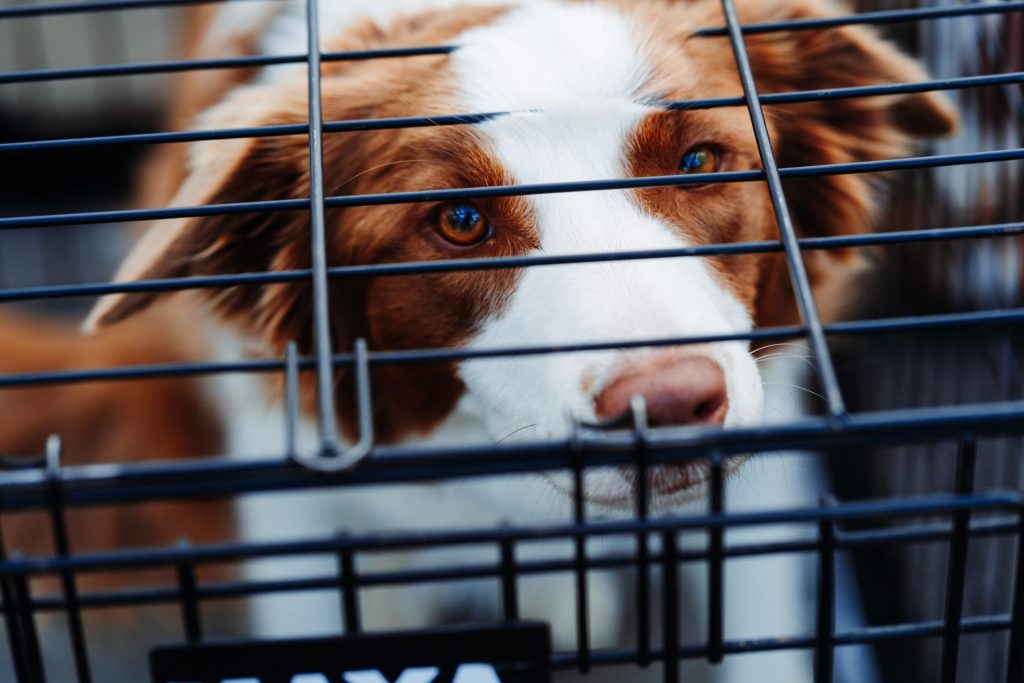 Crate Training
For many pet owners, crate training has some negative connotations. The problem is that most owners don't understand how crate training really works. Thus, they make some basic dog training mistakes and their dog's behavior is not what they hoped it would be. Some might see it as cruel, but on the contrary.
Crates are an essential element to behavioral dog training in that, not only will they prevent messes in the house overnight, but they will also carve out a safe space in your home for your dog to retreat to for privacy. Don't forget that the ancestor of the modern-day domesticated dog is the wolf. In the wild, these canines typically reside in dens with the rest of their pack members. A crate is a recreation of that living space, so it should be seen as such. Crates should never be used to punish your pet.
We recommend taking your pet out of their crate in the morning and taking them for a walk right after. Once you return, you can feed them. In the evenings, feed your pet and walk them before putting them back in their crate. They should start to retreat to their crate in the evenings after a few weeks of instilling this as a habit.
Puppies should not be kept in their crates for long periods of time during the day. They have small bladders and may start to accidentally mess in their crates. If you work and leave your home during the day for long stretches of time, we recommend hiring a dog walker to care for your puppy in your absence.
Don't Hit Your Dog
This is animal abuse. No matter how poorly your pup is behaving, you should not ever spank or hit your dog. This can cause your puppy to fear you and other humans or act violently towards other people or animals from the trauma you will have instilled in their psyches.
Puppy-Proof Your Home
Putting up baby gates to keep your dogs out of certain parts of your house is a fantastic idea- especially if they aren't 100% potty trained yet. We also recommend keeping doors to rooms that you don't want your dog messing around in, closed. Your pup will be trained to stay away from those areas. Besides, when your pup has less space to roam around, it's easier to keep your eye on them.
Reinforce Spoken Commands with Physical Support
Your dog doesn't understand human language, so when you tell them "no" or "stop", they're not going to understand. She them what the word means by demonstrating it visibly. Say, your dog has something they shouldn't have in their mouth, and you say "no". What you should do immediately after is remove the object from their mouth and say "no" again. This way, the next time they have something in their mouth, when you say "no", they'll understand that it means "get that out of your mouth".
We hope some of these tips are helpful! Remember, change isn't going to happen over night. Dog training is a process that takes months. Don't be discouraged- keep trying! And remember, positive reinforcement will get much better results than punishment!
While you may be able to give your dog a bath at home on occasion, scheduling a grooming appointment
Read more